Best Carbon Monoxide Alarm
As you should already know, carbon monoxide can be deadly. It can lead to serious problems and it can impact each and every member of your household. Unfortunately, it can be really difficult to spot carbon monoxide. This gas is tasteless, colorless and odorless. So, you will not be able to detect it on your own. This is why it is absolutely pertinent to add a carbon monoxide detector or alarm to your home. Within this guide, you will learn more about some of the best carbon monoxide alarms in UK.
Best Carbon Monoxide Alarm in UK 2021
Nest Protect 2nd Generation Smoke + Carbon Monoxide Alarm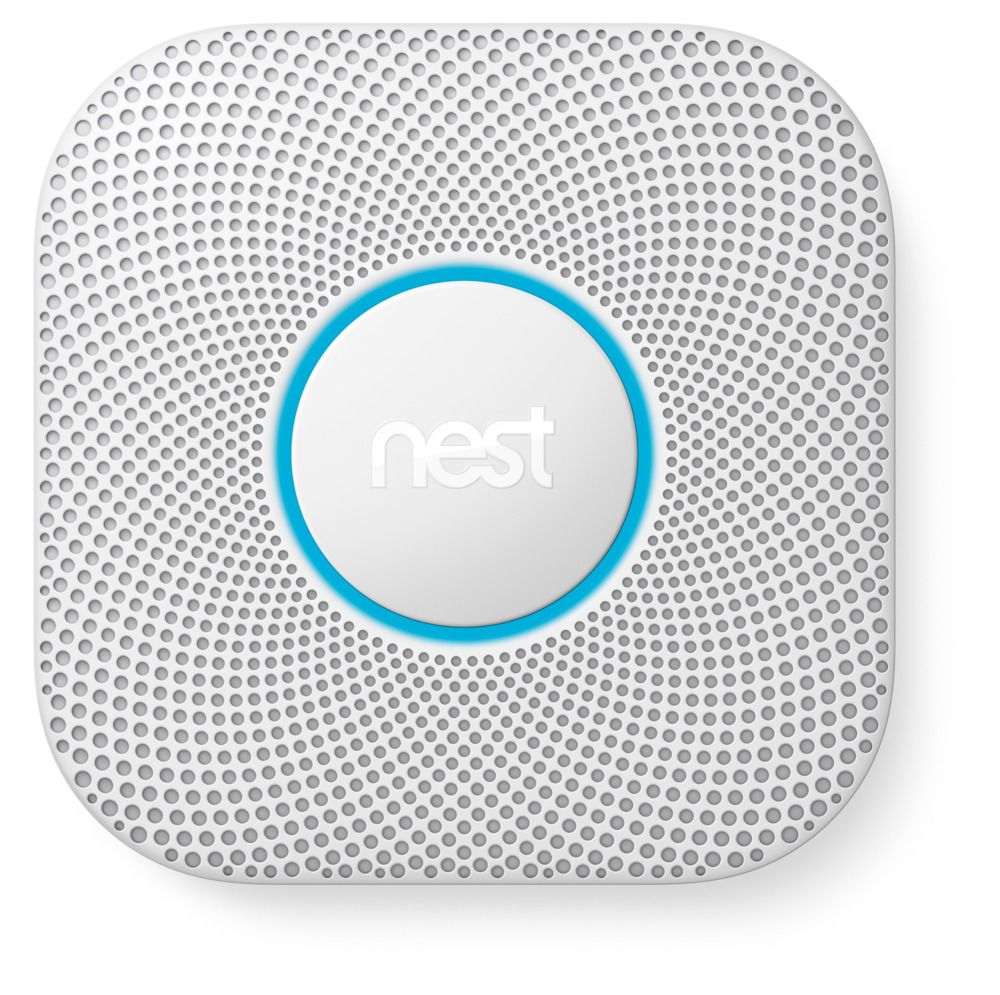 Protecting your family from exposure to carbon monoxide and home from smoke damage are your primary priorities. The Nest Protect 2nd Generation Smoke + Carbon Monoxide Alarm installed in your home will make the continuous task much easier. The alarm is integrated with a Split-Spectrum Sensor, which is capable of detecting slow- and fast-burning fires at a much quicker rate than traditional smoke alarms. This component alone will give you peace of mind, ensuring your family will be able to flee the home safely.
Mobile Notifications
The Nest Protect features mobile notifications, which means alerts are transmitted to an associated mobile device. To receive the notifications, you just need to download the Nest Protect app on your smart/android phone, tablet or iPad. When the embedded sensor detects carbon monoxide or smoke, an alert will immediately be transmitted to the supporting device.
Along with the alert, you will receive information related to the problem and where the problem is located.
Pros
Detects both carbon monoxide and smoke
Nest app features a silence mode
Backed by a 10-year manufacturer's warranty
Low-battery indicator alert
Detects both slow- and fast-burning fires
Battery powered, eliminating unappealing wiring
Cons
Not compatible with Google Home
Software updates can be a slightly long process
Overall Assessment
The Nest Protect 2nd Generation Alarm is ideal for all residential establishments, including single-family homes, apartments and condos. The alarm's design allows for a discrete and modern placement. The alarm synchronizes with mobile devices very well.
Kidde 7DCO Carbon Monoxide Alarm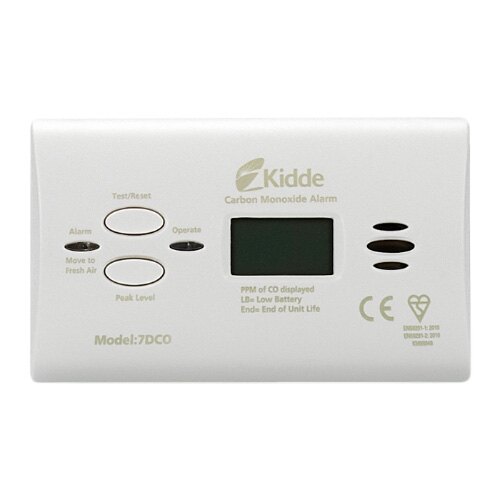 Whether you have a gas stove or a gas-powered heating and air unit it is crucial to monitor the CO levels in your home to ensure the safety of your family. Everyone including infants and elderly are vulnerable to CO and this is why it is imperative to ensure that you are always correctly monitoring the levels. With that being said, there is simply no better way to do this than by taking advantage of the Kidde 7DCO Carbon Monoxide Alarm. This device is powered by 3 double A batteries, which makes for extremely easy installation, and you never have to worry about the device dying when the power goes out.
Easy To Understand Operation
This device could not be any easier to operate, as all you have to do is simply insert the batteries and hang it on the wall. Once installed the device will display a green LED light, which means normal operation. If the presence of CO is detected the LED will light up red and an alarm will go off. Simply press the test/rest button to silence the alarm quickly.
Pros
Easily silence the alarm with the test/reset button
Alarm rings out to alert you to the presence of CO in the home
Easy to install and operate
Continuously displays the CO levels in the home
10-year warranty
Cons
Must replace the batteries
The LED light flashes constantly ever 1 second during normal operation
Overall Assessment
There is no better way to monitor the CO levels in your home with 100% certainty than by taking advantage of the Kidde 7DCO Carbon Monoxide Alarm.
Fireangel CO-9D Digital Sealed For Life Carbon Monoxide Alarm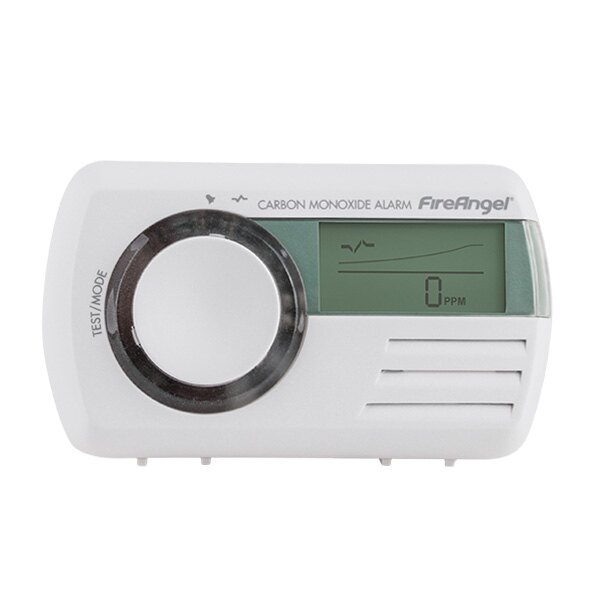 If you have natural or propane devices installed in the home, you probably already know just how crucial it is to properly monitor the CO levels. Well, with the powerful lithium sealed battery installed in the Fireangel CO-9D Digital Carbon Monoxide Alarm there is simply no better way to ensure that you and your family are completely safe at all times. Not only does this device monitor and report the CO levels, but it also monitors and reports the temperature in the home as well. This is a great way to monitor your thermostat and make sure that it is reading properly.
85-Decibel Alarm
If there is one thing that you want in a good alarm it is the ability to alert you. When you invest in this carbon monoxide alarm this is something that you never have to second guess thanks to the 85-decibel alarm.
Pros
Sealed battery cannot be removed
Powerful lithium battery ensures extended lifespan
Also displays temperature, as well as CO levels
Cons
Battery cannot be replaced
Overall Assessment
Monitoring the CO levels in your home is crucial, and thanks to the innovative design of the Fireangel CO-9D Digital Carbon Monoxide Alarm there is no better way to ensure the safety of you and your family.
Life Saver Carbon Monoxide Alarm
If you're looking for a great carbon monoxide alarm that could save your life, you definitely need to check out this alarm from Life Saver. It is surprisingly affordable, yet it offers many amazing features. For instance, the alarm offers continuous monitoring and an end-of-life alarm. This combination will keep you and your family safe and sound around the clock. Additional perks can be found below.
Excellent Functionality
This battery-operated carbon monoxide alarm is very versatile. It offers continuous monitoring, so you'll never be left unprotected. It also offers a test and reset button. This will give you the ability to make sure that everyone is aware of how the alarm sounds. With the multi-function red and green LED lights, you'll be able to make sure that everything is working fluidly.
Pros
Offers continuous monitoring
Equipped with an end-of-life alarm
Incudes a testing button
Battery operated
Features red and green LED lights
Offers 7 years of coverage
Cons
Overall Assessment
There is definitely a lot to like about the Life Saver Carbon Monoxide Alarm. It is durable, effective and affordable. This combination makes it well worth the investment for pretty much everyone.
Honeywell XC100 Carbon Monoxide Alarm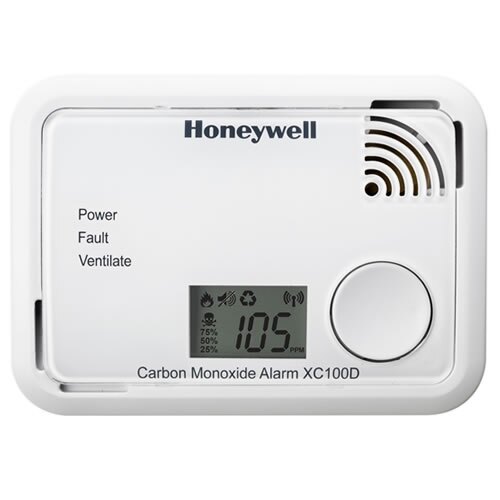 Honeywell is a name that you can trust. The company makes a variety of products, including air conditioning equipment and fire alarms. Thankfully, they also make carbon monoxide alarms. The Honeywell XC100 Carbon Monoxide Alarm is a very reliable product that could definitely save your family's life in the future. It is fairly simplistic and affordable, yet it will definitely get the job done. What sets this alarm apart from its competitors? You'll find out below.
Easy To Install And Use
One of the best things about the Honeywell XC100 is the fact that it is completely simplistic. This is true in all categories. The alarm is surprisingly easy to install. Most homeowners will have it up and running in a matter of minutes. On top of that, the user interface is also very simple. Even if you're not a tech savvy individual, you'll be able to get this alarm set up and ready to go with ease.
Reliable
Another great thing about the Honeywell XC100 is its reliability. There are some devices that may not work effectively. This is not a problem with the Honeywell XC100. It should also be known that this alarm is equipped with an end-of-life signal. Before the expiration date arrives, the alarm will send. This gives you plenty of time to find a replacement, so your family can always be protected.
Pros
Totally effective
Includes an end-of-life signal
Installation is very easy
Simplistic user interface
Can be upgraded for a wireless interconnection
Cons
Overall Assessment
All in all, the Honeywell XC100 is definitely a good investment. It will provide you with astounding peace of mind. You really can't put a price on that!
Do We Really Need Carbon Monoxide Alarm
It has been found in recent research that Carbon monoxide is one of the fatal causes of mass death across the whole world. Global warming is mainly responsible for excessive growing rate of Carbon monoxide in the air. May be we are conscious of other disease like cancer, AIDS of some other.
But do you know that most number of people is having miserable death because of carbon monoxide poisoning. People cannot even know if they are in carbon monoxide poison as this gas contains no color, order less and no smell also. So you could be dead before you are even concerned about this poisoning. Before I go for the details for necessity of Carbon monoxide detector, I want to explain a little more about this poisonous gas.
Carbon monoxide poisoning
Carbon monoxide generally produced by the electrical motors, generators, cars, industrial gas emission, stoves and so on. This gas can be both in liquid and gas form and usually have violated flame.
It bonds the hemoglobin of the blood and spots at the place of oxygen bonding. In the body, then it will cut the oxygen to your heart, brain and other vital organs flown by the blood. For those causes, it is a very dangerous gas and only a detector can save you and your family from this deadly poison.
What does a carbon monoxide detector do?
It will alarm you for the problems of carbon monoxide poisoning before you face the symptoms and breathe it with the oxygen in your body. It generally alerts will beep while there is excessive amount of carbon monoxide gas is the air. It will induce you to take immediate steps for safety of both yourself and your family. By the alert, you can ventilate your house or leave the room or call for expertise to do the right work for getting rid of this poison. Let's check out the steps of its necessity which are given below.
Confusion, blurred vision, muscle weakness, vomiting, nausea, severe headaches ultimate unconsciousness are the main symptoms of this poisoning. And this will warn you before you face those symptoms.
Children and pregnant women are the main sufferer of this gas and the detector is must for them.
It is known as the silent killer. The detector can save you and your family.
So you must know about the usefulness of this gas detector. So grab it before this is too late and take valuable lives of your loving persons.